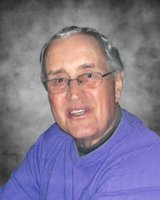 William Morrison Clark
William Morrison Clark, BSc. P.Eng.
At Orchard View in Almonte, on March 14th, 2018 where care, kindness and compassion were given by so many to Bill and his family. Eventually dementia and more claimed another precious life. Left to mourn are his beloved wife Agnes, his much loved daughters Heather (Dave) and Judy and two very special grandchildren Jenna and Clark. Bill was born in the east, was educated in Edinburgh, Scotland, where he met Agnes. They came to Canada as a couple in 1955 and began a new adventure. One sibling Margaret lives in Lockerbie, Scotland with Hazel. Other special relatives and friends are quite scattered. They can share an old Gaelic blessing with dear friends in Arnprior...
Deep peace of the running wave to you.
Deep peace of the flowing air to you.
Deep peace of the quiet earth to you.
Deep peace of the shining stars to you.
Deep peace of the infinite peace to you.
Will be missed and remembered forever.
Private family arrangements are entrusted to the Boyce Funeral Home Ltd., 138 Daniel Street North, Arnprior. Cremation has taken place. In memory of Bill, a donation may be made to the Dementia Society of Ottawa and Renfrew County.