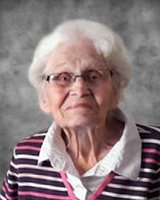 Greta Eileen McHugh
{nee Kippen}
Our beloved mother passed away peacefully on Saturday, February 10, 2018 at the age of 94 while a resident of the Grove Nursing Home in Arnprior. Greta was predeceased by her husband Francis, her daughter Brenda, her parents Duncan Kippen and Mabel Headrick, her brothers Campbell, Ivan, Harold and Ray (WWII), She is survived by her sons, Ray (Judy) and Earl and daughter Elaine (Gord Graham). Loving Grandmother of Sean, Christopher, Stephanie and Andrea, and great-grandmother of Morgan, Jenna, Keaton, Luella and Jordyn. A totally devoted mother and a friend to all, she will be greatly missed by everyone who knew her. Arrangements by the Boyce Funeral Home, Chapel, Visitation and Reception Centre, 138 Daniel Street North, Arnprior. A private family graveside service will take place at White Lake Community Cemetery, Saturday June 2, 2018 at 11:00 a.m. In memory of Greta, a donation may be made to the Arnprior Regional Health Foundation Grove Redevelopment Fund.
A Poem for Mother
Mother, you were just a girl,
So many years ago.
You had your loves and had your dreams.
You watched us come and go.
You watched us make the same mistakes,
That you had made before,
But that just made you hold on tight,
And love us all the more.
We haven't always thought about
The things that you have seen.
To us you've just been "Mother",
No thought of who you've been.
But we remember now in love,
Your life from start to end,
And we're just glad we knew you,
As Mother, and as Friend.